Tuesday April 21, 2015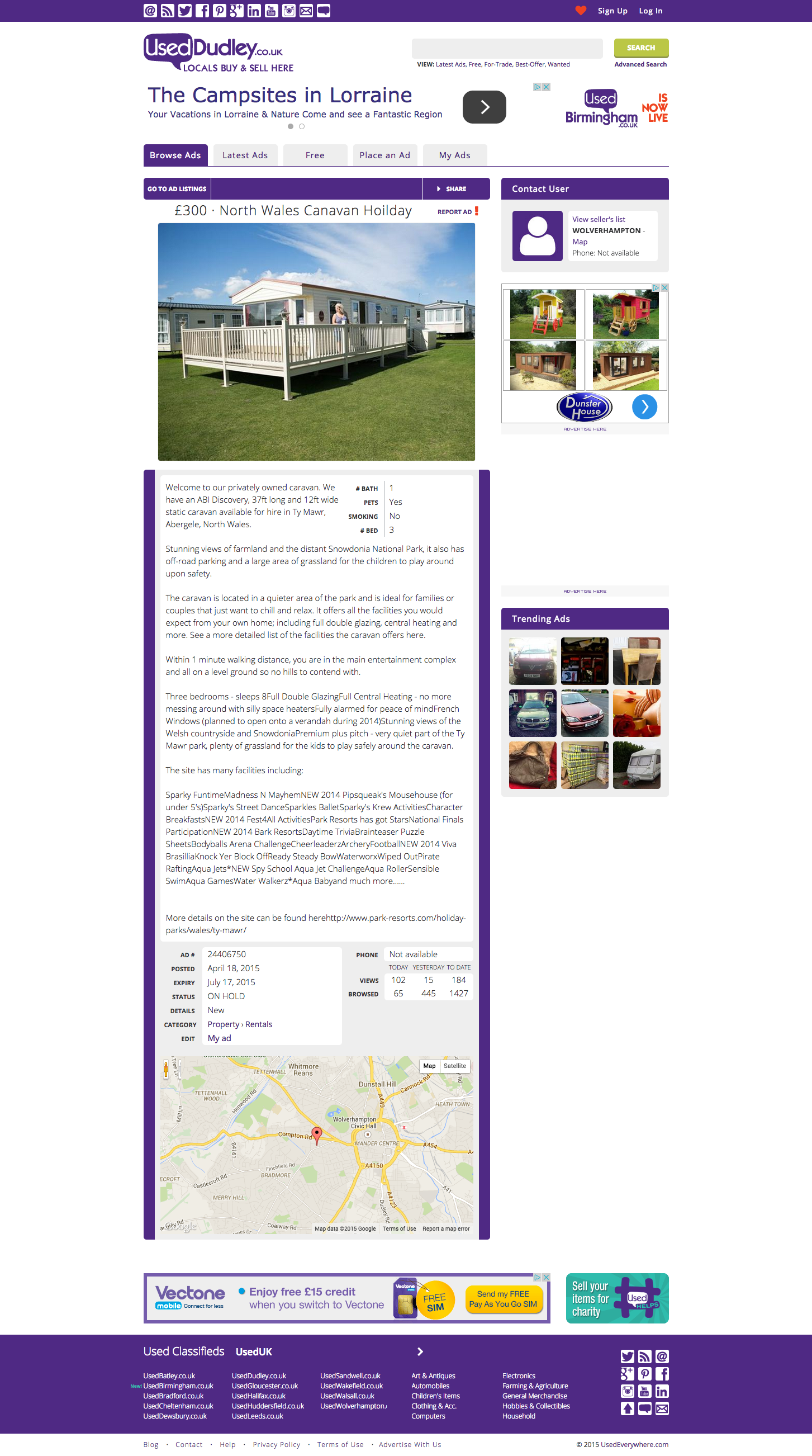 My Caravan details were used to Scam!!!
Monday 20 April 2015 started as a normal day.  I was just about to go into a meeting when I received a phone call from a holiday maker who wanted a little reassurance before paying the deposit on a holiday. Happily chatting away and suggested he inbox me the details and I will do my best to verify this owner.
During the conversation it became apparent that the caravan in question was indeed my caravan but it wasn't my advertisement.  Clearly, the holiday maker has narrowly escaped being scammed : thankfully, he was cautious enough to do some checking.
The picture and details have been taken directly from my own advertisement but listed on a site similar to Gumtree.  August break for £300 payment via Paypal only.
We have raised a Crime Reference number with Action Fraud providing all of the information we have managed to gather (I cannot divulge this information in case the identity is mistaken).
If you have booked a holiday via this advertisement : please do get in touch and I will give you the Action Fraud details.
Note :
The caravan pictured will only be advertised by the Management Team at ETK Lettings
The real caravan link :
The Meadows, Park Resorts, Ty Mawr, Towyn, North Wales : owned by Sharon & Simon Steed
Thank you :
Thank you to the cautious holiday maker : you have saved a lot of people from parting with their hard earned money.
Thanks to a group of Holiday Home Owners that work closely with ETK Lettings, we were able to gather plenty of information relating to the Holiday Scammer.  This information has been shared with the Police and Action Fraud.  We know that the advertisement originated in the Wolverhampton area and featured on a Selling Forum for that area.
Try not to worry :
There are by far more legitimate Holiday Home Owners out there than Scammers.  You need to do your homework and ask lots of questions.  If you are in any doubt you need to ask yourself "do I want to book with this person".
ETK Lettings provides a safe environment to book your holidays.  It doesn't cost the holiday maker anything to book through an Owner on ETK Lettings.  
Many of ETK Lettings' Owners have taken steps to verify themselves by providing personal, photo identification and also evidence of Ownership.  Most of the Owners are in regular and direct contact with ETK and if there is any doubt the listing is taken offline until we are satisfied that all is ok.